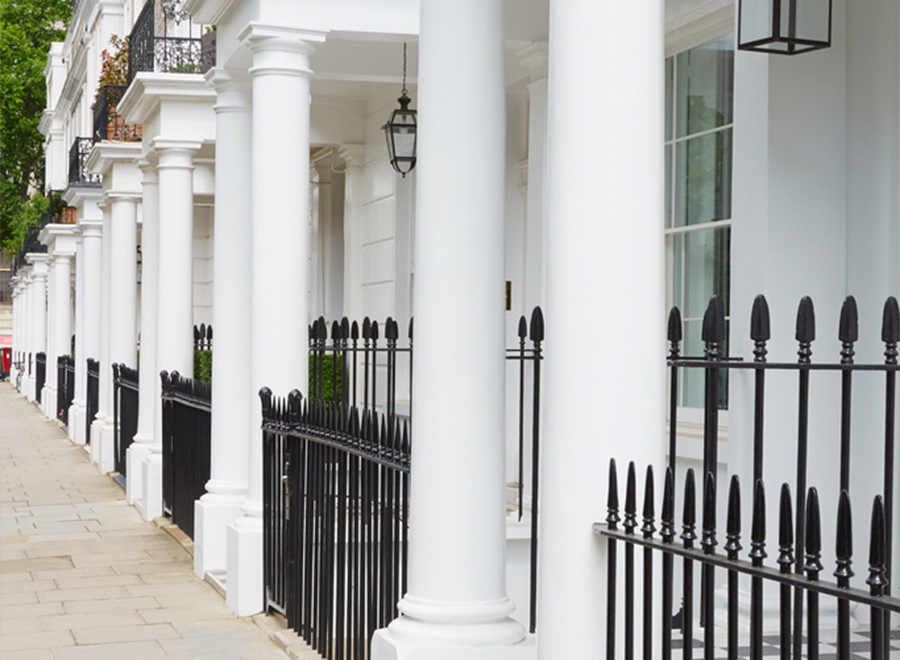 Intelligence
_

Supply slowdown underpins rental values in prime central London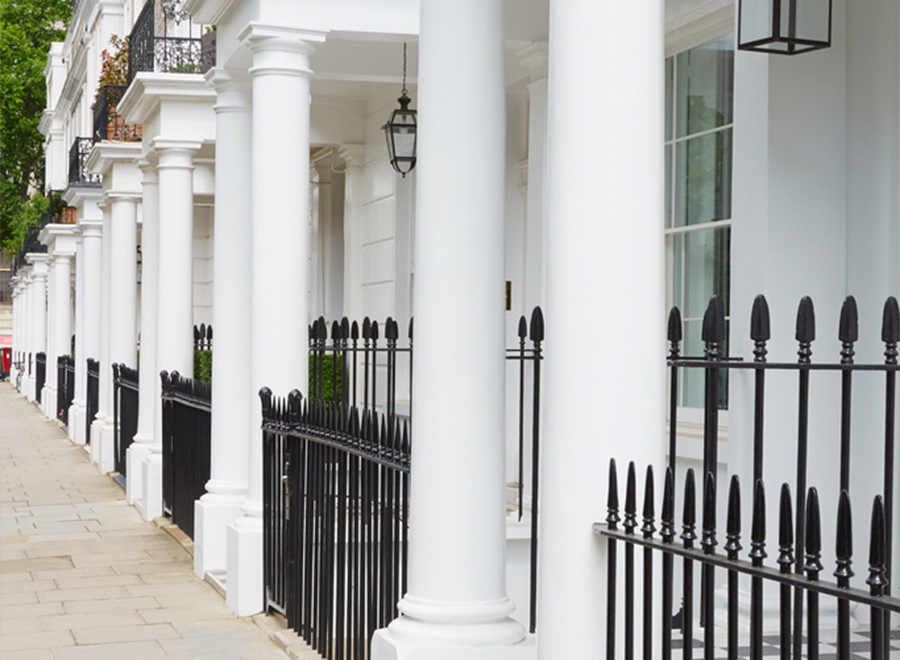 Intelligence
_

Supply slowdown underpins rental values in prime central London
PCL lettings index in November 2017: 162.8
by Tom Bill
December 05, 2017
Average rents in prime central London fell 2.4% year-on-year in November, which was the most modest decline recorded in more than 18 months. Average rental values for existing homes have fallen for more than two years due to rising supply, however this trend is now reversing and declines are bottoming out.
Supply levels have moderated in 2017 following a spike in new lettings properties in the middle of last year, which came after the introduction of the additional rate of stamp duty in April 2016.
A slowdown in the rate of new supply also reflects the fact that fewer would-be vendors are becoming landlords as price declines in the sales market bottom out. An analysis of Rightmove listings data underlines the trend.
The number of listings above £2,000 per month between January and October 2017 in the borough of Westminster was 10% lower than the same period in 2016. The equivalent fall was 12% in the borough of Kensington & Chelsea. There has also been speculation that recent tax changes would exert downwards pressure on supply as more landlords sell up. While the effect of this trend cannot be discounted, Knight Frank data shows little evidence so far in prime central London among what are typically more equity-rich landlords.
The number of landlords who re-let their property through Knight Frank in the year to October 2017 was 6% higher than the previous 12 months, according to an analysis of new tenancy agreements that excluded extension deals with existing tenants.
We expect rental value declines to continue bottoming out and forecast 0.5% growth in 2018 and 1.5% in 2019, based on the fact demand will remain relatively strong versus supply.
As the chart below shows, the ratio of new prospective tenants to new properties has grown from 2.9 in January to 3.3 in October. Previous cycles suggest that as this number surpasses 3.5, it is accompanied by positive rental value growth.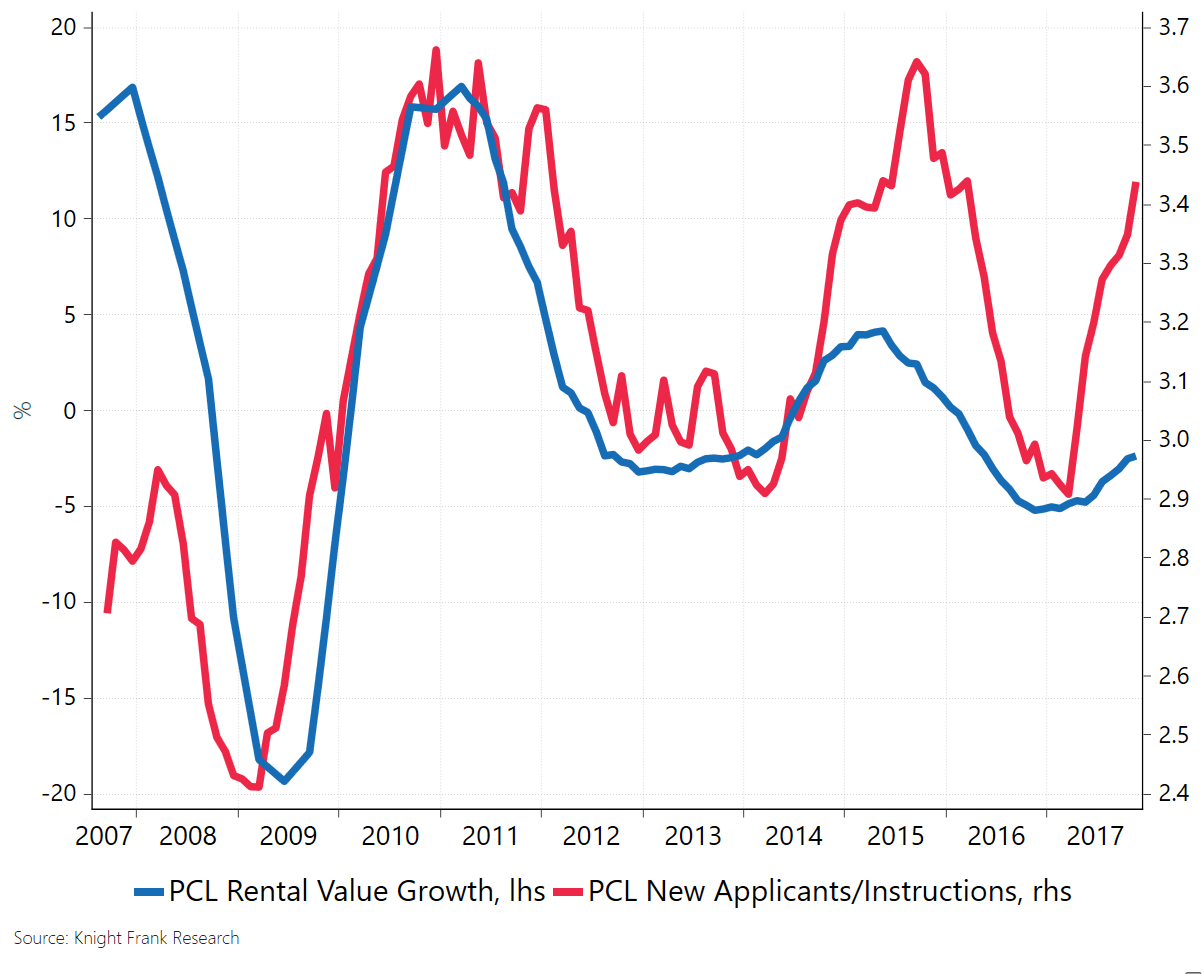 While supply continues to decline, demand continues to rise. The number of new prospective tenants registering between January and October increased 16% and viewing levels were 19% higher than last year.
Accordingly, the number of tenancies agreed in the first nine months of the year was 16.4% higher than 2016.
Our blog content is provided for interest only. It may be produced spontaneously, without the reviewing and editing often used for more formal publications. It may not be understood by a reader as it was intended. Any views expressed may be the personal view of the writer and do not necessarily reflect the view of Knight Frank LLP. It may include or be based upon information from a variety of external sources which have not been verified by us.
You read our content at your own risk and cannot rely on it in any way. To the fullest extent permitted by law, we do not accept or assume responsibility to anyone for the content or for any opinion expressed and we will have no liability for any loss or damage resulting from any use of, reliance on or reference to the content.
© Knight Frank LLP 2016. Reproduction of our content in whole or in part is not allowed without prior written approval of Knight Frank LLP to the form and context within which it appears. Knight Frank LLP is a limited liability partnership registered in England with registered number OC305934. Our registered office is 55 Baker Street, London, W1U 8AN, where you may look at a list of members' names. Please see our [terms and conditions] and [privacy policy] for more details.